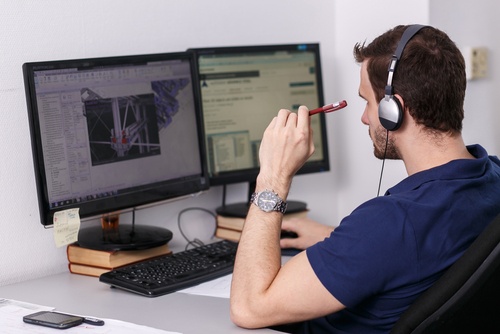 This year, AT&T identified a labor supply issue that many other organizations are also struggling with. Only about half of AT&T's 250,000 employees had the necessary science, technology, engineering, and math skills that the company requires. They had a tough choice to make – they could hire software and engineering people and pay extremely high acquisition costs to secure them. These resources would still require evaluation and training to make sure they were aligned with AT&T's strategy go forward. Or they could reskill their existing workforce so they could be competent in the technology and the skills required to run the business go forward. They chose latter and launched a $1 billion, web-based, multiyear effort that includes online courses, and collaborations with Coursera, Udacity, and other leading universities. If it succeeds, by 2020 AT&T will have re-educated 100,000 employees for new jobs with cutting-edge skills and in the process, created the kind of flexible workforce it needs to compete in the 21st century.
The AT&T case is not unique as many organizations struggle with recruitment and retention. Organizations need resources to do jobs now that did not even exist ten years ago. While some jobs, such as an app developer, might not be applicable to all companies, jobs like data analysts, social media managers, and cloud computing specialists are becoming standard positions for most organizations. The problem that many companies face is that while quite a few people market themselves in these positions, the lack of accreditation services for these new jobs and skillsets means that a business often takes considerable risk bringing in someone new for these tasks. And it's not just businesses who are realizing the need for reskilling, a 2016 Pew Research Center survey shows that more than half of the adults in the workforce today realize that it will be essential for them to get training and develop new skills throughout their career in order to keep up with changes in the workplace.
In a survey of HR managers one of the most frequent concerns was that their departments need individuals who can pull data; use business intelligence tools; and create dashboards. In the past, often one individual could specialize in these skills for the department, but the contemporary HR work environment demands that each individual be able to perform at least some of these tasks. Specifically, the increase in cloud technology means that the number of data and analytic tools at an individuals fingertips is significantly higher than at any point in the past. Having individuals who are able to employ the new tools to help solve business issues is one of the most crucial HR needs of the digital age.
While your organization may not have an expansive budget, you can still leverage a HR system that tracks skills of your employees to identify the gaps in your talent requirements that are needed to fulfill your business vision. Many of the new age skills might already exist in your workforce, but they are likely being employed for different purposes to suit your current needs. A Social Media Manager for example, requires knowledge of using the latest social apps as well as the ability to start conversations online. A lot of traditional marketers would have the foundation to know what needs to be said on these new platforms but would need to be trained to leverage mobile and automation tools to keep up with the fast pace of the digital marketing world. Data analytics is a new field but a lot of analytically minded resources may already exist in your organization and simply need to be trained to use business intelligence tools. It might seem risky to invest so heavily in your current resources in this global, fluid economy where everyone struggles with retention, but the reality is the cost of new employees and the risk they come with is much greater. Your current staff is already invested in your business and your strategy and in most cases, are deserving of the opportunity to evolve with the business.
---

About the Author:
Marnie Larson is the CEO of StarGarden Corporation and oversees its operations in Canada, US and New Zealand. She has over 20 years' experience in the software industry and specializes in HCM, Business process automation and Workflow technology.
Follow Marnie on Twitter: @mblarson
---
Learn tips and tricks to identify your organization's current needs and avoid common mistakes before making a HCM buying decision!