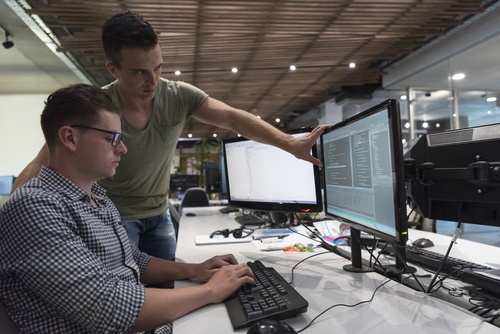 Your Information Technology (I.T.) Department plays a key role in all types of business technology analysis, evaluation, solution selection and implementation projects. Although the functional and process-related components of your new Human Capital Management (HCM) solution may be under the responsibility of Human Resources, the support and guidance of I.T. within your HCM project should be fully utilized to leverage their expertise for all technical and integration-related components. Too often, I.T. is called into the evaluation process well after the HCM project selection committee has begun their research and short-listing of a few vendors' solutions without consideration for some of the technology-related components that should be satisfied to meet the I.T. strategy requirements of the organization.
I.T. Guidance during HCM Evaluation and Selection
The technology strategy of the organization is the basis from which the new HCM solution's delivery platform should be chosen, and I.T. should be involved to ensure that the organization's interests and requirements are served. This includes their preference as to where the solution is to be deployed, for example - within the cloud or installed on premise, and the extent to which I.T. may be called upon to support it. Your organization's I.T. strategy may also have guidelines or restrictions as to where the solution may physically be hosted, (i.e. Canada, U.S., other countries) with respect to protocols for security and privacy of data. The strength of a vendor's security provisions and their infrastructure to protect your data are among the items for which I.T. should be involved early on in your HCM selection process.
I.T. Exposure to Confidential HCM Information
Appreciating the level of confidentiality and privacy of both company-level and employee data that will be managed within your HCM solution, I.T. will play a vital role in supporting and providing guidance within your HCM system selection and implementation process. Where access to company or employee-level data may be required by I.T. to lend their technical support, follow your internal policies of the organization to safeguard your information through a confidentiality agreement appropriate to I.T.'s involvement. Don't compromise on leveraging I.T.'s technical expertise within your project for the sake of keeping all data completely off limits to these valuable supporting resources.
I.T. Support during Implementation
The HCM vendors for which you are researching their solutions should each be asked what the customer's I.T. support requirements will be both during and after implementation once going live with your new solution. The vendors should be able to describe the tasks and responsibilities of I.T. within the various phases of the project and identify key areas of the implementation for which I.T. involvement will be critical. For on premise solutions, I.T.'s support is traditionally higher than for cloud-based HR solutions. Ask the vendor what the FTE (full time equivalent) resource requirements may be of I.T. to support each type of solution delivery model which may be available. Validate any assumptions within your discussions with the shortlisted vendors. Have the vendors base their responses from the perspective of their experience with other customers of a similar industry, relative size, complexity and scope of requirements to that of your organization.
I.T. Involvement with HCM Solution Integration and Reporting
During implementation, assistance is often required with data conversion, preparation of data for interfaces and reports. This level of assistance may also differ based on the delivery platform chosen, as well as the implementation methods which may be available from the chosen vendor. Implementation methods may include variations of more or less direct customer involvement depending upon your requirements and solution budget. The expertise and time availability within your HR team to perform these types of technical tasks will also factor into whether I.T. may need to be to be involved more heavily.
Solution integration with your HCM solution and your organization's other business solution is often where I.T. may be more-heavily involved. Following the implementation, I.T. resources are often used for strategic initiatives such as business process re-engineering, configuring workflow and further leveraging the integration toolsets which may be available. For solutions that come with complex reporting, analytics, dashboards and business intelligence tools, I.T.'s involvement may be critical to ensure that you are leveraging the most functionality out of these tools within your business and among the team members who will use them.
Leverage the valuable resources that you may have within your I.T. department throughout each phase of your HCM solution project. Keep them in the loop and not in the dark.
---
For practical tips on successful HCM selection and implementation, download our eBook : HCM Buyer's Guide
---