Around the holidays, many people feel an increased sense of community involvement and generosity. Encouraging your employees to volunteer as part of a company-wide initiative builds not only engagement with the outside community, but improves your corporate culture and benefits your business in multiple ways.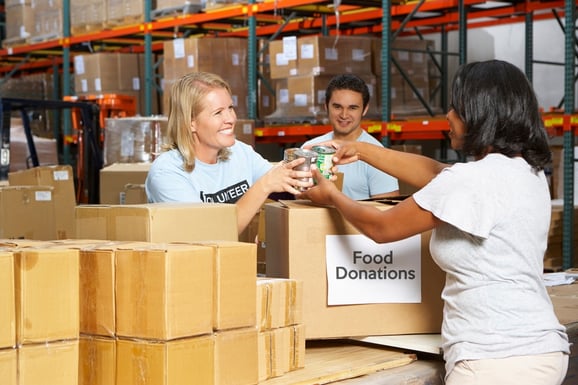 Increase Employee Engagement & Improve Retention
As the economy improves, retention and engagement become more and more important. In addition to being much less expensive to retain existing employees than train new ones, happy employees are more productive employees. Volunteering, especially through a corporate-endorsed volunteer program, improves both employee morale and employee dedication to their company. According to surveys conducted by the Deloitte Volunteer IMPACT group, "millennials who frequently participate in workplace volunteer activities are more likely to be proud, loyal and satisfied employees, as compared to those who rarely or never volunteer."[1]
Improve Employee Skills and Health
Volunteering can be a fantastic way to improve and enhance your employees' skill sets and help promote other important corporate initiatives, like employee wellness programs. For example, a volunteer program that links employees with programs to teach adult computer literacy can help your employees stay current with technology. A program that pairs employees with kids to train for a 5k fun run can encourage physical fitness as well as mentorship. In some law firms, young associates gain trial and other real-world experience by volunteering with indigent defense funds and low-income legal clinics, or with non-profit social justice programs. Volunteering also can help employees round out their skill sets by giving them experience in leadership, second language conversations, problem solving, public speaking, management, organizational and event planning, fundraising, grant writing, and more.
Benefit Your Company's Bottom Line
Encouraging volunteer work can save your company money in a number of ways, both directly and indirectly. Talk with your financial advisors about whether volunteer work can qualify you for any local, state, or federal tax credits or incentives. You may be eligible for local community stipends and grants, too, depending on what kind of work your employees are doing. In addition to direct financial benefits, however, volunteer activities can often do double-duty as publicity and marketing opportunities for your company. Plus, matching your employees with volunteer opportunities that provide training in relevant areas can save your company significant training costs.
Build Goodwill and Camaraderie
Working together as a team on volunteer projects can both improve inter-employee relationships and build your company's reputation in the community. Day projects like park and forest restoration and cleanup or packaging food at a community food bank can be great opportunities for your team to work together in different ways and contribute to the community.
A 2013 study of 3,351 adults in the United States found that 87% of people who volunteered in the prior year said that volunteering had developed teamwork and people skills, as well as other job-related strengths, and 81% agreed that volunteering together strengthens relationships among colleagues. Four out of five employed people who volunteered in the prior year said they felt better about their employer because of the employer's involvement in volunteer activities. A strong majority also reported better health, reduced stress, and a greater connection to their community (both in and outside of work).[2]
How to Encourage Volunteer Work
Encouraging volunteer work can be done in many simple ways. If your company has a team-building retreat, think about incorporating a day of volunteer work into a multi-day event. Consider offering incentives to your employees for volunteer work – from corporate sponsorship of volunteer-driven events to paid sabbaticals for more intensive volunteer commitments. Even encouraging employees to do volunteer work on their own, then sharing their involvement on your company's social media, are great first steps to take.
StarGarden software o integrated HCM systems can help you manage all aspects of employee payroll, scheduling, and HR documentation. Find out more about the advantages of our integrated HR & payroll software at www.stargarden.com or contact us today!
[1] "Deloitte Volunteer IMPACT Research." Deloitte. Deloitte Touche Tohmatsu Limited, 2015. Web. 18 Nov 2015.
[2] "Doing Good is Good for You: 2013 Health and Volunteering Study." UnitedHealth Group. UnitedHealth Group, 2013. Web. 19 Nov 2015.
Click to edit your new post...