It's almost summer! For kids, that means, the joys of summer break. For working parents, that means the pain of figuring out where to send your kids while you're at work and they're not in school. You want it to be fun…interesting…educational…safe…reliable…and affordable. Think that's impossible? Don't worry -- you've got options!
Summer camps and programs
If you are really organized, you can collage together a week-by-week solution, where your kids do different activities for a week or two at a time for the entire summer break period. Many different organizations put together day or sleep-away camps that last a week or two, including: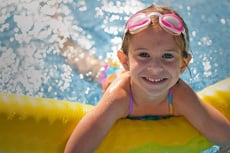 Sporting activity organizations or clubs, like gymnastics, soccer, or ballet
Parks departments (city or regional)
Boy Scouts or Girl Scouts (camps are frequently open to non-scouts for a small additional fee)
4H or Future Farmers of America clubs
YMCA/YWCA
Church groups (Vacation Bible Schools frequently accept non-church-members)
You can also mix in a week or two of family vacation; if your kids are old enough, they can go visit relatives on their own, and get to see not only new people but new places (without mom and dad). If it's possible for your family, you might take along one of your kid's friends on your family vacation and then trade, so your child gets to go on their family vacation, too!
The week-by-week way can be the most economical, although it is certainly the hardest to organize and manage. Some parents' "summer spreadsheets" are impressive projects worthy of inclusion in their management and planning portfolios!
Creative solutions with family and friends
Getting together with other families in your church, social, or work networks, or in your neighborhood, might help you figure out more permanent and stable solutions if you want to avoid the week-by-week planning hassle. Friends who are stay-at-home parents may be willing to watch your children in their homes or take them with their own children to activities. Or, you may be able to join with another family (or a few other families, depending on how many children you all have) to hire a nanny to care for all the children (in one of your homes or rotating between them).
Nannies can be live-in or not. College students who need housing for the summer can be a great live-in option, if they are able to trade room and board for daytime childcare services. Responsible high school students who are friends of the family may also be good options for day-by-day care or perhaps to live-in with your family for some or all of the summer, if they are from out of town. A number of reputable professional services provide screened au pairs from other countries, who typically wish to trade live-in childcare services for room and board, and the experience of living with a foreign family.
School and training programs
Especially as more and more parents work, many schools have implemented summer programs, either purely supervisory or as supplementary academic endeavors. These programs are often very affordable, and many offer scholarships for financial need or academic merit. For older kids, taking classes through a community college can provide them with not only something interesting to do during the days but let them earn credits towards post-high school college studies.
Older kids may also be able to work as "assistant counselors" or "counselors in training" at camps and programs for younger kids, which is a great way for them to learn organization and responsibility while being supervised for free or low cost.
Flexible work arrangements
If you're able to rearrange some of your own work schedule, it may make it easier to find childcare and supervisory programs to fill out the remaining time. Ask if your employer has flex-time, job-sharing or remote work options. It might even be possible – depending on your job situation, the personality of your kids, and the environment of your work – to bring your kids with you to work sometimes.
Balancing work and family can be difficult all year round, but being creative and reaching out to others can help you find the best solutions for you and your family. Check with HR to see if there are any resources through your employer, your office building or complex, or other companies nearby which may help you during the summer or beyond. Promoting happy employees can help a company be more productive, so most companies want to help you figure out how to make the best choices for your whole family. Good luck, and have a great summer!
StarGarden's streamlined, integrated payroll and scheduling system takes the pain out of payroll and scheduling, so you can focus on other areas -- including promoting work/life balance, effective staffing, and how to keep employees happy! StarGarden has custom-built software solutions for specialized industries with diverse payroll, including the right human resources software for education, payroll systems and cloud-based payroll management for heavy industry, the best HR software for cross-border workforces, and more.
Want to learn more about the benefits of an integrated HR & payroll system? Download our FREE eBook by clicking the image below, or contact us today!