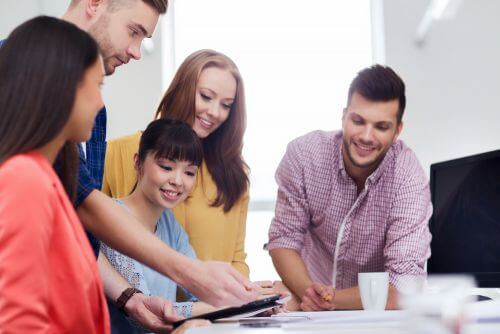 Now that you've received approval and have funds within your HRIS budget to research, evaluate and select a new HCM solution, who do you include among your resources to determine your requirements to ensure the solution that you select meets everyone's needs in your organization?
Consider who within your organization needs to be involved to share their perspective, so that you're not working in isolation of your overall HR business needs which may reach, and also serve, many other departments within your organization.
Assemble a Team – Include at least one representative on your HCM evaluation team from each department in your organization who will be impacted by the benefits of implementing your new HCM software solution, particularly if your new solution is a fully integrated and unified system and is capable of sharing its information with other business solutions within your company.
Human Resources – Include the decision makers in addition to the person who will administer the HCM system, perhaps a 'power user', in addition to several key people who will be end users of the product. Their contribution to the system evaluation should not be undervalued as they will be hands-on with the system on an everyday basis and will rely on its efficiencies to save you time and resources.
Payroll – Members of this department are a given - particularly if the solution that you will be selecting is integrated with HR and the overall solution. These team members are the payroll experts and will contribute their ideas and past experience around the use of an in-house payroll system or one that is supported though a payroll outsourcing company. Similar in importance to HR, the end users running payroll need to be consulted during the evaluation process to ensure that the integral components of payroll processing are addressed and not glossed over in the review process.
Finance – The new solution is likely going to be required to generate electronic data files for General Ledger (GL) purposes, in addition to producing timely reports which the Finance team will require to support their accounting, budgeting and related functions. How well the new solution readily provides data, through its report writer, to support audits and compliance requirements will be of keen interest to these team members within the evaluation process.
I.T. – The technology strategy of the organization is the basis from which the new solution's delivery platform should be chosen, and I.T. must be at the table to ensure that the organization's interests and requirements are served. This includes the research as to whether the solution is to be deployed within the cloud, or installed on-premise, and the extent to which I.T. may be called upon to support it. Your organization's I.T. strategy may also have guidelines as to where the solution may be hosted, (i.e. Canada or the U.S.) with respect to protocols for security and privacy of data. The strength of a vendor's security provisions and their infrastructure to protect that are among the many items for which I.T. should have a voice at your solution selection table.
Other Departments – Look around, who else in your organization is currently inputting human resources data, employee listings and the like into one-off databases and spreadsheets to support their own isolated projects? Include these groups in your requirements gathering process.
Other Resources – Consider enlisting the services of an independent HR Technology Consultant to guide your team through the evaluation and selection process. A well experienced Consultant will bring an objective voice to the discussion table, will structure the entire process and will ensure the right questions are asked of team members and the vendors. Their unbiased knowledge of vendors' solutions within the industry, and which ones may be suitable candidates to meet your organization's HR business, functional, technical and budget requirements will also save you valuable time and resources within your project.
StarGarden's implementation team will take you through a smooth implementation from requirements building to training. If you are ready to talk about an integrated HR software that helps you do all your HR functions at one place, contact us today !