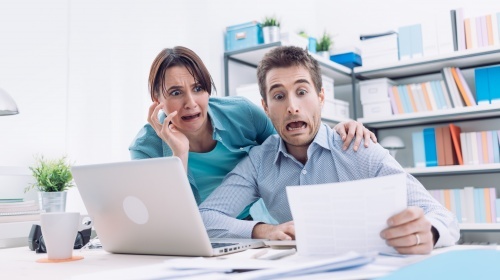 There has been plenty of press about the disastrous Phoenix payroll implementation in the Canadian federal government. This week I read about yet another case of large payroll errors due to a new system implementation. And this time it was the Maricopa County Community College district, which is one of the largest community college districts in the US. It has 1404 full time faculty members, along with 4457 adjunct faculty. Technical issues caused inaccuracies in payroll calculations, leading to overpayments ranging from $10 to $10,057 and underpaying 760 of the employees, including some who received $1700 less than what they were owed.
Reason?
Maricopa County launched an upgrade to its human resources technology. The project that started in 2015, has costed $24 million over the past 3 years. While the project team expected glitches, the number of errors was larger than expected. It is highly demotivating for employees to receive compensation that is less than what they are owed, and very inconvenient for employees to report problems and wait for solutions.
We've already looked at why people end up being overpaid, underpaid and not paid at all, in the Phoenix payroll system case, and there are some similarities here as many issues arose from the complexity of the project.
What made Maricopa County payroll system so complex?
Dealing with adjunct faculty or contingent workforce in an educational environment
Government involvement in the budgeting process
Changing contractual rules for the unionized workforce
Dealing with a contingent workforce increases the complexity due to the varied hours and schedules in place. In educational institutions, this means tracking semester-based calendars and exactly when a faculty member will be teaching. The contractual rules for benefit set up and renewals must also be tracked. Maricopa apparently had union negotiations underway at the time of the roll out, which meant the HR system had to take into consideration the changing benefit packages afforded to employees as new agreements with the union were reached.
What makes payroll system implementations and roll-outs a success? Just like any good story it is about the beginning, middle, and end.
Beginning: Starting with an assessment to see what the project requirements are and whether the vendor will be a good fit for the organizational needs is essential. There are plenty of software solutions on the market, but not all of them will be able to meet the needs of an educational institution, or be able to handle union complexities for benefits and compensation calculations.
Middle: After the needs assessment is complete and a solution is selected, the organization must get all the stakeholders involved, get their input and buy-in, and communicate the project plan and schedule. All areas of the organization have to be confident that their testing scenarios and concerns are part of the project plan.
End: We recommend our clients do 2 full parallel runs against their previous systems to verify everything is working as expected prior to cutover. As you near the completion of the project implementation, training of end users needs to be completed and procedures put in place for contacting administrators to log issues ensuring communication channels are open prior to cutover.
Dealing with changing payroll and benefit rules and regulations in industries that have a lot of complexity, such as education, requires experts to help an organization make a positive impact when they upgrade. If end users think the old system was better than the new one simply because of their experience with the implementation process, ownership and adoption of the new system will be difficult. And everyone will speculate on the value of the new system whether it is justified or not. Proper planning and utilization of vendor expertise can help minimize some of these negative impacts.
---

About the Author:
Marnie Larson is the CEO of StarGarden Corporation and oversees its operations in Canada, US and New Zealand. She has over 20 years' experience in the software industry and specializes in HCM, Business process automation and Workflow technology.
Follow Marnie on Twitter: @mblarson
---
Want to make sure your HRIS implementation project is right ? Start with the vendor evaluation and read more useful tips in the HR Buyer's Guide.