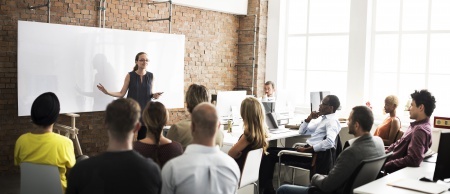 With the implementation of your new HCM solution comes the need for a comprehensive training program to ensure that all users, and also the overall business, are able to get the most out of the new system. But don't wait for your new HCM system to be implemented before you start planning ahead for the training program.
7 key steps and accompanying checklists of items to proactively plan an HCM training program:
Assess the training requirements, and identify training goals and learning objectives
What do you need to accomplish?
Who is going to be trained?
Who is delivering the training?
Who is creating the training materials?
When will the training be delivered?
Where will it be delivered?
How will it be delivered?
Determine the content and scope of the training
What level of training detail is required to meet your goals and objectives?
Consider the varying skill sets and experience of team members who will be trained.
Consider the roles of team members who will require training, i.e. Administrators, Power Users, Managers, Report Writers, etc.
Consider the tasks that each trained person will need to perform, i.e. system setup and administration, data entry, executing processes, designing workflow, running payroll, troubleshooting interfaces, configuring benefits and other table-driven functionality, adjusting security privileges, running or designing reports, etc.
Consider training content for new team members who are unfamiliar with existing company systems and processes.
Design and develop the training materials and the delivery format to support these requirements
Consider the use of hard copy manuals, process descriptions, how-to guides, hand outs, power point slides and flip charts
Develop hands-on exercises as well as demonstrated exercises provided by the instructor.
Include interaction and check points within the course exercises to ensure team members understand all of the individual concepts.
Include opportunities to receive feedback, during and after class
Identify any problems that arise within the software during the training exercises and communicate those to the HCM vendor for prompt resolution
Identify the tools, resources (human and equipment), facilities and materials will be required to prepare for and delivery the training?
Identify areas that may be leveraged from previous training, materials and methodologies, or other internal-delivered company training courses?
Determine the delivery methods for the training.
These may include:
Classroom or company training lab
Offsite training resources or facilities
Online delivered sessions and webinars
Onsite Lunch & Learns, etc.
For multi-site and distributed-location organizations, determine and consider the individual work locations
What are the varying location-specific training needs?
Are there any Canada vs. U.S. or global-country variances with respect to training, functional and technical requirements?
Determine the time and scheduling required to effectively deliver the training
Consider full days vs. half days.
Consider time zone differences that may impact multi-site training delivery
Provide multiple deliveries of the training material to accommodate employees' schedules and availability.
Consider team members' current day jobs
This can be in terms of advance scheduling for training, in addition to any travel that may be required, and budgeted for, to attend any onsite training.
Anticipate and consider seasonal differences in costs for airfare and accommodations
Consider seasonal business cycles in your company when the timing for training may be less optimal.
With some proactive planning and preparation, the delivery of your HCM training program can certainly be made more easily and effectively to get the most use out of your system as well as your training sessions.
---
Download our Free eBook !