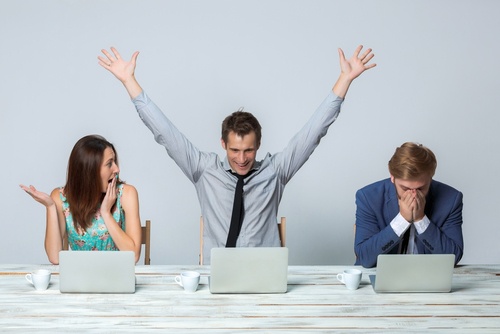 At this time of year there are lots of articles about the defining moments in HR over the past 12 months and also about what we should get ready for in the coming year. I tend to read through them all as I am interested in what might impact the company but also what might impact me personally. The reality is that the HR trends out there will affect everyone differently and mean different things to different professionals depending on where you are in career and what aspirations you might have. The country you live and work in will also have an impact on how the trends affect you.
HR Trends for 2017
So here are some trends that stood out for me and what they might mean to different professionals and roles (this list was comprised from Forbes, Bersin by Deloitte, and HR Zone):
Focus on people even before hiring through improved candidate experiences: The interview process is just one way that recruits are checking out your organization. Organizations need to project their values in their online presence and how they function in their communities. Candidates are looking for meaningful work with companies that align with their core values.
How we work is changing and so is the traditional employer-employee contract: People are constantly connected with each other and there are people who will agree that 9 to 5 jobs (especially in knowledge work) are disappearing. People want flexible arrangements for when and how they work and organizations are seeking more contractors and contingent workers to fill resourcing gaps.
Strive for an inclusive, supportive, and constantly learning culture: Organizations are realizing strengths of a diverse team. There is more awareness of bias and people are making the effort to measure, analyze, and figure out how to change the work environment to provide a more inclusive work environment. Business leaders have realized that true leadership is not just about guiding and managing but about creating more leaders. And every knowledge worker knows that the learning curve is the earning curve. 2017 will see more active measures to create organizations that truly learn from their mistakes as well as from others.
HR will be more agile: Agile environments experiment, learn, improve, and optimize. HR will use digital tools to do just that. Continuous feedback loops for performance management is an example of HR embracing agility. HR has learned that tools are only as good as the people using them and the data available.
Creativity in benefit options help increase employee engagement: Employees continue to stress how important the benefits that organizations provide are in their decision to work at a particular company. HR professionals need to keep that holistic employee experience picture in mind and design financial and health benefits that make employees happy. And the benefits will differ between organizations depending on where the company is located, the industry they operate in, and the life stage of the organization.
How HR trends impact different players
And if we look at some of the trends out there from the prospective of players in the industry, here are some things to make note of:
Recruiters and HR: HR needs to stand in the shoes of the candidate and take note of what attracts (or does not attract) a candidate to your workplace. Perhaps you need to have more frequent conversations with the candidate during the hiring cycle or provide access to other employees so they can get a feel for how their actual work experience might play out. The talent shortage in many areas has forced HR to actively 'sell' their organization to candidates more than ever.
People you don't hire may also impact your business. The power of social media and online employer rating sites means that not treating candidates you don't hire well, may damage your reputation and your ability to attract other candidates. Glassdoor reports that candidates have a negative view of companies who don't send an automated response to people who were not selected.
Managers (with some guidance from HR): Research shows people get apprehensive at work when they don't get regular feedback and some may even leave if they don't know where they stand. And different generations need different types of feedback. For example, millennials (who make up 70% of the workforce), thrive on feedback. So you don't want to let the lack of feedback lead to low engagement levels and bad performance.
Managers may also be trying to find unique skill sets and/or cut some costs in their areas. Contract workers may be an option but Managers need to work with HR to ensure there are some guidelines in place to preserve quality and productivity levels.
Senior Management: Creating great candidate experiences, increasing employee engagement, and providing a workplace that truly cares for their employees' wellbeing, all have to be supported and mandated by top management. Changes and improvements can only occur if all levels of the organization are in agreement and trying to accomplish the same goals.
The end of the year is a great time to reflect on the past year's accomplishments, learn from our missteps, and plan our strategies for the coming year.
All the best for 2017!
---

About the Author:
Marnie Larson is the CEO of StarGarden Corporation and oversees its operations in Canada, US and New Zealand. She has over 20 years' experience in the software industry and specializes in HCM, Business process automation and Workflow technology.
Follow Marnie on Twitter: @mblarson
---
One important trend making its way in organizations is using workflow technology for HR processes for automation. Learn about workflow technology or HR in our eBook.