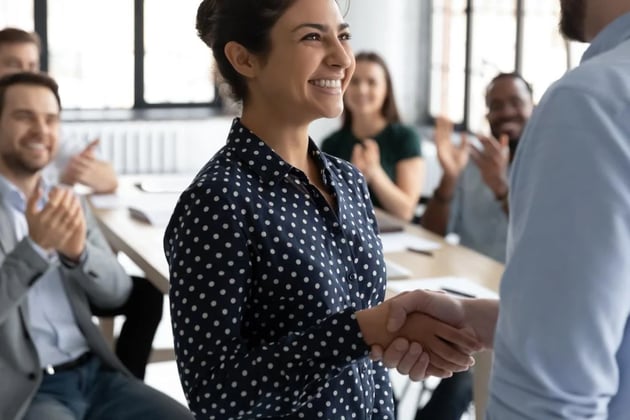 Practicing employee appreciation should be a mandatory aspect of the business for all organizations. A Forbes article featured a study that showed 66% of employees would quit if they didn't feel appreciated by their employer. This number increases to 76% when referring to millennials, who are a dominant generation in the workforce. When done well, exemplifying employee appreciation can help to retain employees, improve workplace culture, and increase productivity throughout the organization. So, how do we leverage appreciation in a way that shows positive results for all employees, regardless of their working location?

Employee appreciation can be shown in various ways and can come from different areas in the organization. Managers can show their employees' appreciation, coworkers can appreciate one another, and HR professionals can implement programs to support employee appreciation throughout the business. We've compiled a list of some of the most successful employee appreciation ideas to bring to your business:

Learning opportunities are a gift
Employee appreciation comes in all forms. At businesses, we're used to recognizing appreciation in the form of a celebratory team lunch. This is still a great way to say thank you to employees for their efforts; however there are other unique approaches that can drive great benefit for your business. As a manager, a great way to show your employees how much you, and the business, value them is by investing in their growth. A great manager will go that an additional step to show they truly know their employees by marrying the work that needs to get done with the employee's personal goals and aspirations. A career-based reward supports employees' growth and strengthens their relationship with your business. Offering the opportunity to learn a new skill set as a gift of appreciation, helps employees to find their potential to excel in their role and in turn increases employee retention. Creating an environment where employees can learn something new, and then practice that skill set in a real business scenario, is a strong strategy to maintain team growth.

Learning opportunities can also be offered to employees from a personal perspective. Some employees may have hobbies or goals outside of work they would like to explore further. As an employer, there's no better way to show your employee how much you value them than by taking an interest in their life. Prioritizing a team member's growth will make them more likely to stick around and work harder for your company.
Give employees exposure
An incredibly powerful way to show appreciation to employees is to give them special projects that will provide company-wide exposure. Rewarding employees with additional work doesn't sound like appreciation. However, a study indicates that there is a 26% increase in employee opportunity when employees participate in special projects. An example of a special project to reward an employee with, is making them a Subject-Matter Expert (SME). A SME exemplifies specialized knowledge in a specific area of expertise, and is usually the main point of contact for this specific project. A manager will focus on the 4 areas of employee engagement to prepare their employees to be a SME: selection, expectation setting, motivation, and development. Being a SME provides an employee exposure, as the business will view them as an expert for guidance and highlight this employee's unique strengths. Expanding employee responsibility is a great way to show employees that they are an asset to the business.

Another great way to provide exposure to your employees is to extend an invitation to a manager's or an executive meeting. Many employees don't get face time with executive leaders, so rewarding an employee with an invitation to attend an executive meeting could greatly benefit their career. In addition to the exposure they will get from being in a room with the C-suite team, employees can also better their work by finding a way to connect the projects that they are working on with the larger goals of the business. If employees are comfortable, you can also offer the chance for them to present a project they're working on to the C-suite team to be recognized for their accomplishments.
Always-on appreciation
Celebrating employee appreciation only one day of the year is not enough to keep morale high and increase employee loyalty. The most successful businesses find a way to incorporate employee appreciation into their everyday set-up. By practicing "always-on" appreciation, you can increase employee morale and create an environment of gratitude within your business. A great way to consistently show appreciation is to utilize employee collaboration platforms. Whether it's a private message with a simple thank you for a job well done, or a more public appreciation shared with the team, everyone likes to receive some recognition for the work they put in.

Appreciation doesn't have to start and stop at an HR or manager's level. We can also promote "always-on" appreciation at a co-worker level, so staff can show appreciation to each other. There are many unseen efforts that teams put into day-to-day activities that get overlooked. This is a great way to give your employees a voice to call out the great work and support they are getting from their coworkers. You can set aside 5 minutes during a morning meeting for this practice, or even carve out time for a weekly meeting for your team to unwind and share some gratitude.

Businesses will find great benefit in employee recognition programs when they align with your company values. Your company values are a building block to your company culture. So if you build programs that recognize employees for exemplifying this behavior, you will be provided with useful data insights to track how well your company is living its values on a day-to-day basis. This information can be used by HR Professionals to help measure the businesses most prevalent values to your organization, and also where the company as a whole can improve.
How HR professionals can show appreciation
There are countless ways a business can show employee appreciation, but one of the most effective ways is to implement a company-wide process. HR Professionals can reshape the way their business looks at employee appreciation by implementing some of these ideas:
Extend your employee appreciation day: Why not expand employee appreciation to a week or even a month? Create a fun and exciting calendar filled with activities to recognize all employees. By expanding the timeframe, you can combine multiple forms of employee appreciation to ensure that we speak to the needs of each employee. This is a great way to make everyone feel connected and increase employee engagement.
Ask your employees what they would like: If you're looking for the perfect way to celebrate employee appreciation, the best place to start is to ask your employees what they want. Not all employees like to be recognized in the same way. Some see benefit from a public announcement and others prefer a more private thank you. Personalizing your appreciation to your employees shows genuine appreciation and is known to support retention.
Create a staff appreciation holiday: Days off don't have to be locked into holidays. Create your own company-wide employee appreciation day off. This can be a chosen flex day, or let everyone take a Friday afternoon off. Want to take this tactic a step further? Instead of just giving everyone the day off, plan a company-wide event, such as an awards ceremony. This will help to increase company morale, and give everyone in the office something to look forward to!
Use StarGarden HCM 5.0 - Extended HR: Use our HCM platform to keep track of employee performance and provide constructive feedback. This system will ensure that there is both alignment and collaboration between managers and HR professionals to facilitate employee growth. Utilize the performance module to get reminders and metrics for comparisons, and identify top performers within the organization. Say hello, to your one-stop integrated HR system that will meet all of your needs! There are many reasons why organizations make the change to an Integrated HR system, so explore if this change is right for you!
Keeping track of employee appreciation can be difficult if you don't have a system that you trust. Implementing an HR system can immediately impact employee management and engagement positively. These systems make it easier for managers to make decisions on employees' productivity and can notify them when an employee's work deserves recognition.
While it is often conventional wisdom to express appreciation to employees, businesses should not rely on this one act to show that they care. Instead, organizations should find ways to implement these employee appreciation tactics as an integral part of their company culture. This creates an always-on process that ensures your employees are receiving recognition for their hard work and dedication.
---
Resources
https://www.forbes.com/sites/victorlipman/2017/04/15/66-of-employees-would-quit-if-they-feel-unappreciated/?sh=8aded8868979
https://www.forbes.com/sites/forbestechcouncil/2022/02/18/employee-recognition-the-missing-piece-in-your-great-resignation-arsenal/?sh=1226605e6909
https://www.octanner.com/insights/articles/2019/11/5/_20_creative_ways_to.html
https://nectarhr.com/blog/employee-appreciation-day-ideas