Companies have always had to keep in mind the importance and focus on their workforce, but with the workforce landscape changing so quickly, with younger workers rising to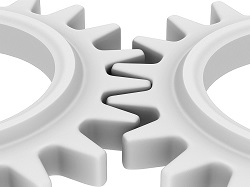 the top of the ladder, baby boomers retiring at an increased rate, and technology taking hold of the job search arena, HR professionals have a lot to manage today.
In order for HR to make the kind of difference needed to support both the overall strategic objectives of their company, as well as to attract and retain a powerful workforce, here are 4 trends in 2015 to pay attention to.
Top 4 HR trends for 2015
Millennials:
Millennials also known as Generation Y, are those born in the 20 year period beginning in the mid-1980's. They think differently, work differently and have a new set of values compared to the generations that preceded them. Why does that matter? Because in the last 5 years, 87% of Millennial workers have taken on management roles, compared to just 38% of Generation X and 19% of Baby Boomers.
This brings with it a unique set of challenges and opportunities. Some say the challenges lie in younger leadership having their work cut out for them in understanding how to manage those that are older than them. The opportunities that exist lie in the tech-saviness of the generation as well as less black and white requirements around work/life balance and more valuing work/life integration. They also care about transparency in leadership and believe in a collaborative approach. See the next trend for more on this.
Transparency and Honesty in Leadership:
Where there may have been a corporate culture of "need to know basis" in the past, today's millennials and younger generations are demanding a more transparent and honest approach to business. Leaders are not just expected to inspire and lead, but now more than ever need to be seen as trustworthy and open with their workers. Millennials also truly desire to listen into organizational strategy sessions and be in the loop regarding their company's vision and how they can set themselves apart.
The Job Search Picks Up
A recent study shows that 86% of job seekers who are already employed are looking for work outside their current occupations. That's staggering. The old adage, "it's always easier to find a job when you have one" definitely applies here. More people are starting to look for opportunities that are closer to their "dream jobs" and are willing to relocate to find them. In addition, today's technology allows for people to job search and apply for jobs right from their phones, making it easier than ever.
Stepping out of the Box
As more people begin looking for work that is closer to their "dream jobs", many workers are beginning to consider freelance opportunities and contract positions. Companies are hiring more temp workers and or consultants because they don't have to pay for benefits, which have become another area of importance and negotiation today. With the rise of technology, telecommuting has become more available and more common, so people in consulting and contract work have more opportunities than ever before.
So What Does All of This Mean?

Now more than ever companies need to partner with their HR departments to create an environment that powerfully handles these trends, such as encouraging open forums like town hall meetings and collaborative conversations, competitive benefits packages and flexible work environments, understanding millennials and encouraging their growth and education in the workforce.
Having the right human capital management system in place is a critical part of being able to rise to today's challenging workforce demands. Click here to read our free eBook "…A Better Way" to learn more about how your HR software can make or break your business.